Freak Magnets musik-koll
Vi kollar musikläget med Marianne Martinsen, sångerska och gitarrist i MARY´S KIDS. Här tycker hon till om musik i olika sammanhang, och därefter synar vi Mary´s Kids kommande EP, Don´t Back Down.
Ett favorit Band: DESCENDENTS
Ett favorit album: Can I Say – DAG NASTY
En favorit låt: Second Skin – THE GITS
Senaste fysiska album jag köpt: Silenciado – DIAGNOSIS? BASTARD!
Album jag festar till: Young, Loud And Snotty – DEAD BOYS
Album jag lyssnar på dagen efter: I Think Of Demons – ROKY ERICKSON AND THE ALIENS
Snyggaste albumomslaget: Feel The Darkness – POISON IDEA
Favorit textrad/citat:
"Ain't looking for an exit, I've never been in, I'm on the outside never looking back.
Streamline Yr Skull av NEW BOMB TURKS
Bästa konsert jag varit på: Dead Moon på So What i Oslo.
Bästa spelställe: CROCODILE i Eisenach.
Bästa musikfilm: Unknown Passage med Dead Moon
Bästa bok om musik: American Hardcore av STEVEN BLUSH
På Spotifylistan här intill kan ni höra musiken. 
MARY´S KIDS aktuella EP:
Ser ut så här: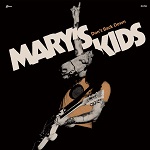 Har fått titeln: Don't Back Down och är en 7″EP.
Det är nummer två av fyra EP:s som tillsammans ska bli nya LP:n Rotting Out From The Inside.
Har en totaltid på: 7 min.
Har så här många låtar: 4
Har inspirerats av: Misär och musikal
Kan kategoriseras som: Punk
Låter som: Nina Simone på crack
Kännetecknas av:  Oklart
Handlar om: Livet
Har producerats av: Oss själva
Andra medverkande: Nej
Skivbolag: Ghost Highway Recordnings och Beluga Records
Releasedatum: 17:e juni
Kommande gig: Releasefest på Kafé 44, Stockholm, den 17:e juni