Freak Magnets Musik-koll:
Vi kollar musikläget med Henrik Appel, sångare och gitarrist i Stockholmsbandet Lion´s Den. Här tycker han till och delar med sig av sin musiksmak och sina favoriter just nu. Efter det får vi också lite snabbfakta om Lion´s Dens nyligen släppta debutalbum.
Henrik Appel tycker till:
Ett favorit Band: GROWTH
Ett favorit album: THE AMERICAN DEATH RAY – Welcome To The Incredibly Strange And Erotic World Of The American Death Ray
En favorit låt: GIORGIO MURDERER – Theme From Star Trek
Album jag festar till: DIGITAL LEATHER – Modern Problems
Album jag lyssnar på dagen efter: KAREN DALTON – 1966
Snyggaste albumomslaget: C.C.T.V. – 7" Här nedan inklusive musik:
Favorit textrad/citat: "Don't refuse your feelings" från Box Of Metal Emotion – DIGITAL LEATHER
Bästa konsert jag varit på: VIVA L´AMERICAN DEATH RAY MUSIC
Bästa spelställe: Litet och intimt, gärna Båten (Vieille Montagne) i Stockholm styrt av Thomas Savage.
Bästa musikfilm: The Devil And Daniel Johnston
Bästa bok om musik: Please Kill Me av Legs McNeil och Gillian McCain
På Spotifylistan här intill kan ni höra musiken. Dock finns inte allt på Spotify, varav vi ersatt med andra låtar med samma artist eller band. C.C.T.V. finns inte på Spotify överhuvudtaget så de kan ni höra här ovan.
LION´S DENs debutalbum :
Har fått titeln: Lion's Den
Kan kategoriseras som: Garagerock, postpunk, pop
Har så här många låtar: 10
Har en totaltid på: 25 min
Har inspirerats av: Livet.
Handlar om: Livet
Har producerats av: Konie (Martin Ehrencrona)
Släpptes: 31/8 2016
Och ser ut så här: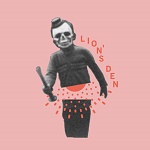 Vill man uppleva Lion´s Den live kan man göra det här:
29/9 Kafe de luxe, Växjö, med Growth
30/9 Skjulet, Göteborg, med Growth och La Hell Gang (Chile)
1/10 Lopen, Köpenhamn, med Gorilla Angreb (Danmark)
11/11 Båten (Vieille Montagne), Stockholm, med Uranium Club (USA) och Gestures